Ingredients:
1 pound flank steak -- diagonally sliced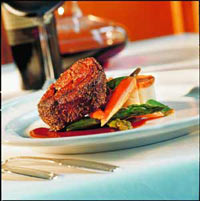 Pepper Steak
Marinade:

1/4 cup soy sauce
2 tablespoons dry sherry
1 teaspoon sugar
2 teaspoons cornstarch (corn flour)
1/4 cup water
2 tablespoons oil
4 cloves garlic -- chopped
2 teaspoons ginger root -- peeled, grated
2 scallions -- chopped
2 tablespoons oil
1 large onion
2 green peppers -- sliced
Directions:
1. Marinate steak for 15 minutes or more. Add oil to hot wok.

2. Swirl and stir fry garlic, ginger and scallions for 30 seconds.

3. With slotted spoon, reserving the marinade, add half the steak and stir fry for 3 minutes. Remove and set aside. Repeat with remaining steak.

4. Add oil and stir fry onion and green peppers for 2 minutes.

5. Push vegetables to sides of wok. Add marinade to center of wok and stir until thickened and bubbly.

6. Blend in vegetables, add steak and heat thoroughly.


More delicious Chinese recipes are available in ChineseFoodDIY's cookbook "Real & Healthy Chinese Cooking".