---
Much Chinese cooking requires the use of a wok. The wok is traditionally made of cast iron, but is normally found in carbon steel form in the United States. Several factors should be kept in mind when choosing a wok, one of which is weight. Although the wok is not generally moved around very much on the stove, weight does play a role in a wok's utility; a wok that is too thick will not heat as quickly as a thinner one. More important than weight, however, is size, and the best woks are generally 14 inches wide, large enough to hold a whole chicken, fish or duck, and with enough room for additional ingredients. There should be room in the wok to move the food around, and since the heat is concentrated on the bottom, a larger wok will allow more food to be cooked at one time. Woks generally come with a matching ring and cover, and be sure to look for one with wooden handles which won't conduct heat like metal will, making your wok easier to work with in the long run.



Buy wok now


Cleaver
---

Because they retain their sharpness well and are less expensive than stainless steel, Chinese chefs recommend using carbon steel cleavers. Cleavers come in a variety of weights, with each dictating its degree of usefulness. Light-weight cleavers have narrow blades and are primarily used for light chopping, delicate slicing and boning. Medium-weight cleavers, which are the most versatile, have thicker blades and are useful for all but the heaviest of tasks. This all-purpose tool can be used for everything from crushing ingredients to chopping, slicing, mincing and cutting up meat. Lastly, heavy-weight cleavers have the thickest blades and are generally used to hack through bones and cut through the toughest of ingredients.



Buy clever now

Frying Strainer
---
Used for deep-frying foods, the best frying strainers are made from wire mesh. Choose a strainer with long bamboo handles which won't conduct heat and will be easier to use.
Wide-Blade Spatula
---
This tool is helpful when stir frying and scooping up food. Its long handle helps keep you farther away from cooking heat.



Buy Spatula
Ladle or Scoop
---
This dual-purpose tool is used for removing food from the wok. The ladle or scoop can also be used to impress your friends, allowing you to mix sauces right over the wok. Of course, this technique takes practice, so be sure to rehearse before performing in front of an audience!

Long Wooden Chopsticks
---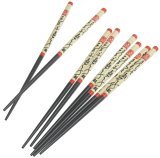 Chopsticks are useful for picking up and moving food around within the wok, but only if you know how to use them! Here again, the wood will not get hot, making them easy to work with.
Bamboo Steamer with Lid
---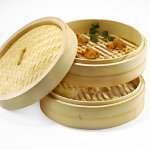 This fundamental tool is designed to fit inside the wok, and can be used one at a time or stacked one on top of another. You may line the steamer with cheesecloth and place food on top of it for cooking, or simply place the steamer onto plates when serving. The steamer should sit approximately one inch above the boiling water inside the wok, and the water should be replaced as it evaporates during cooking. When cleaning the steamer, be sure to avoid using detergent -- the bamboo will absorb the flavor of the soap, so instead simply rinse with water.